Ultrasonic Cleaners for Blinds and Shutters

A brighter outlook for Europe
Leading the way in blind cleaning technology

Hilsonic ultrasonic machines are designed for the efficient and economical cleaning of all types of window blinds, including venetian blinds, vertical blinds and external blinds and shutters.
Using the specially formulated, Hilsonic process, each blind can be cleaned and restored to nearly new condition in just a few minutes. This means that a Hilsonic machine can clean around 100 blinds per day - a marvellous profit opportunity.
You can introduce blind cleaning as a service to your existing customers, and you can also use it to generate brand new business. Offices, factories, schools, hospitals and homes are all potential new customers, so you can repay your investment in double-quick time!
Hilsonic has been one of the world's leading manufacturers of blind cleaning equipment for over 20 years, with our machines well established throughout Europe. By choosing the best, you can be sure of European-wide service and technical support.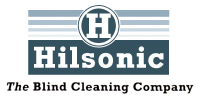 Tel:
+44 (0) 151 639 6020
Fax:
+44 (0) 151 639 5782
Units 1-4,
Cashel Road,
Wirral,
Merseyside
CH41 1DY, UK